This beautiful dove cross was commissioned by my client to honor the CFO of her company on his retirement. The design of the cross is based on the logo of the company: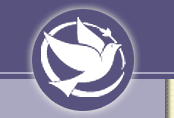 Company Logo Used By Permission
The rotation of the dove was changed to fit onto the cross and the color scheme was also changed according to my client's tastes. The translation from logo to mosaic worked wonderfully.

The cross was presented at the CFO's retirement party and is said to have been well received . It now hangs in his home.

Materials: White Semi-Transparent Art Glass, Deep Green Stained Glass, Dark Brown Stained Glass, Light Blue Stained Glass, Navy Blue Stained Glass on Wood Base; Grouted in White.
Size: 9" x 13" (Medium)

Private Collection.